GAME DESIGN SEMINAR
Learn about:
Game design and Creative direction
System design
Motivation design
Interaction design
ONGOING COACHING
Discuss progress and provide guidance
Strengthen team, keep project on track
Remotely through Skype
Regular basis, from weekly to monthly
ONLINE COURSES
Learn online
Videos, articles and exercises
Vote on which topic we cover first
Be invited to the beta!
The Biology of Game Design
A scientific approach to fun and gameplay
Games are tools we use to train ourselves. Understanding the way our mind and body function is the key to create captivating games that let players grow. Through my career as director of design on games like Assassin's Creed, FarCry, Splinter Cell and Company of Heroes, I developed a scientific approach to learn and develop as an efficient game designer.
In this seminar, you will learn:
Psychology – How to play with the levers of our brain to motivate and reward players
Game theory – Shape player's research of optimal play in your game system
Ergonomics – Design interaction based on how our body and mind function
Cognitive science – Gameplay as structured uncertainty to provide clear but debatable choices
Developers from these studios took the game design seminar:

This seminar is for you if you are
Focused on AAA, social or indie games
Anyone involved with gameplay: Designer, programmer, producer or data analyst
Senior level, junior or even a student
Next seminar
We don't have a date set yet, but you can use the form below so we tell you as soon as the next seminar is announced.
Want info on the next seminar? Send us a message so we keep you informed!
Generally, the seminar takes place in Vancouver, over a weekend.
Saturday and Sunday, from 10am to 4pm
At Lighthouse Labs, 300 – 128 W Hastings St, in Gastown, Vancouver
Regular price is $399
$149 for students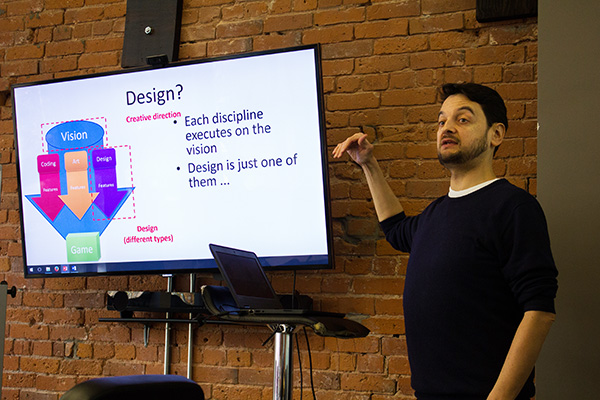 My 4 modules to learn the science of game design
Game design and Creative direction
Understand the relationship between creative intention and execution through game design
Introduction to levels of abstraction
Mapping the sub-disciplines of game design, level design and narrative design
System design
Introduction to logic and game theory
Optimal strategy as a metric to evaluate design
Gameplay as a symbolic system
Governing principles of gameplay
Understanding core challenge
Motivation design
Actions and behaviours
Distinction between pleasure and fun
Introduction to psychology applied to game design
Notions of cognitive biases
Motivation and reward
Case study: Bejeweled
Interaction design
Focusing on behaviours to design interfaces
Case studies: Burnout, Halo shooting helpers
Notions of biomechanics
Communicating relevant information
Interface and viscerality
Alex's workshops have been a major influence in our studio for helping to establish clear design language, goals and objective ways to measure design progress. With over 10 years of game development experience, I have found that the workshop was extremely helpful and instantly improved my design process by more easily identifying the key problems that need to be solved and why.  I would highly recommend Alexandre's seminars!
Alex Mandryka's game design seminar gave invaluable insight into the various aspects that make up the design of a game, and a much deeper appreciation of the process of defining and crafting a unique and compelling player experience, from conception to implementation, without resorting to the same old tired tropes and clichés. While I would recommend Alex's seminars to any serious student of game design, anyone involved in game development, regardless of discipline or years of experience, will come away with a much greater understanding of the art and science of creating world-class games.
The seminar gave me a framework for how to evaluate my ideas so that features and concepts can reinforce each other. It is more than just game mechanics: it helps to create a vision for the game you are building and making sure that everything you put in works to get you closer to that vision. Over the past 4 years, my indie studio has released multiple games but the design process has been… unrefined. The seminar will help bring future games to the next level.
When in class, the content and interaction constantly challenged the notions I took for granted and opened my eyes to details I have always missed. Witnessing Alex explain the complex reasons behind graceful design is like seeing the Matrix. I am humbled and grateful for Alex to share his years of experience with us and recommend his seminar to anyone who loves Game Design.
Attending Alexandre Mandryka's seminar gave me a whole new way to think about games. Where other designers flail about in a fog of ambiguity, Alexandre teaches a principled approach to the design process. The tools I've learned at the seminar will help me for the rest of my design career.
We also run seminars at studios, like those below: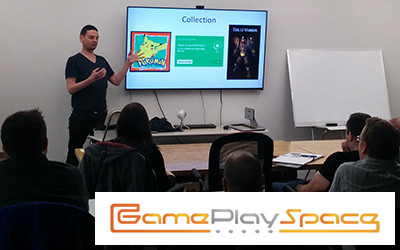 At Gameplay Space in Montreal
Want to invite us to your studio? Use this form to send us a message!
With Ongoing Coaching, get guidance from a 15 year industry veteran! Online mentoring sessions through Skype let us discuss your current issues, identify action plans and next steps.
Determine a specific area of coaching, or your project in general
Designed as a low-commitment option
Great for game design professionals, students and indie developers
Online mentoring through Skype
Flexible scheduling on any time zone
Interested in Ongoing Coaching? Click Here to contact me.
Alex provided a type of mentorship that I had never previously been exposed to in my 6 years of being in the industry. He has distilled not only the creative process, but also how a team must interface in order to harness the best work from individuals involved in that process.
Alex presents a delightfully meticulous and logical way of designing games that challenges the gut-based approaches so common to the field. He takes design seriously and gives you the tools to do the same.
I worked with Alex as I made my transition to a large company. With his relaxed style and years of experience, he helped me put my best foot forward in this new culture and succeed in my new role.
Can't attend our physical seminars? What better than Online Courses to learn where and when you want? We are working to get our programs in online form, with videos, articles and exercises. We want to hear from you to know which part you would be more interested in seeing come out first. Please fill the form below and you'll be invited to the beta!